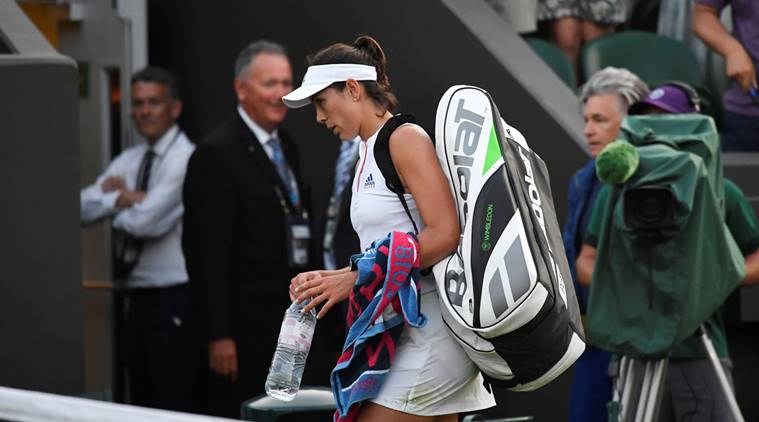 Garbine Muruguza's second round exit is the earliest a Wimbledon women's singles defending champion has departed since 1994. (Source: Reuters)
When Garbine Muguruza clutched her temple with both hands and shook her head repeatedly, she laid bare the throbbing pain racing through her body as her Wimbledon title defence was hijacked by a little-known Belgian on Thursday.
Alison van Uytvanck produced a fearless brand of hard-hitting tennis to topple the champion with a 5-7 6-2 6-1 hammering in the second round.
While van Uytvanck confessed that "inside I was dying", she never allowed those nerves to betray her as she completed the biggest upset at this year's championships.
With the evening shadows creeping across Court Two, a beaming van Uytvanck let out a roar and raised her arms to celebrate the most notable win of her career.
In stark contrast, Muguruza could scarcely believe she had become the fifth of the top six women's seeds to perish within the first four days of the grasscourt major.
The Spanish third seed often appeared dazed and confused as she headed towards defeat but once her torturous on-court ordeal was over, she had a clear idea of how it all went so wrong.
[bc_video video_id="5805906024001" account_id="5757251836001″ player_id="ByU0hpZif"]
Advertisement
"She played big today. She took a lot of risks, and it worked for her," said Muguruza, who suffered the earliest exit of a defending women's champion at the All England Club since German great Steffi Graf was beaten in the first round in 1994.
"I also think that my level today was not where I wanted it to be. That's also why she could develop that kind of level. It's a little bit sad… but she played great."
There was no doubt about that.
UNFOLDING DRAMA
A blazing crosscourt winner on break point gave van Uytvanck a 4-2 lead but Muguruza hit back to take the next three games and somehow survived the nervy first set when her whipped forehand licked the baseline on set point.
Advertisement
However, there was no let off in the next two sets and the third seed could barely believe the drama unfolding before her eyes as van Uytvanck bombarded the Spaniard with serves that often exceeded 110mph, with the fastest clocked at 115mph.
But it was not just the serve that caused mayhem for Muguruza. She slipped and fell heavily on her shoulder while chasing down a drop shot as the final set ran away from her in the blink of an eye, a netted service return ending her ordeal.
The 47th-ranked Belgian won 10 of the last 11 games as Muguruza seemed at a loss to come up with anything that could throw van Uytvanck off her stride.
It was not as if Muguruza played badly, as she only produced 23 unforced errors during the one hour 52 minute contest.
She simply came up against a player who kept believing – whether it was with her serve, groundstrokes or net play.
Also Read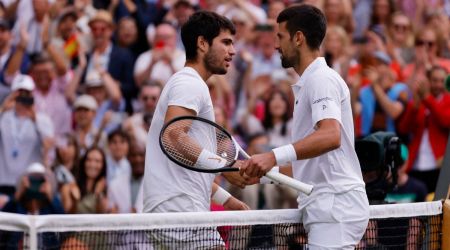 Novak Djokovic and Carlos Alcaraz set to meet again in group stage of Dav...
Watch: Jannik Sinner wins a 46-shot rally against Tommy Paul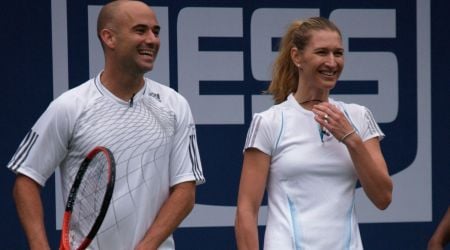 Does Steffi Graf ever age? Husband Andre Agassi has the perfect reply
'Never been friends, never been close to Roger Federer': Novak Djokovic s...Advertisement
While Van Uytvanck's reward was a place in the Wimbledon third round for the first time, Muguruza was off to join the snaking checkout queue – a line that already includes beaten Grand Slam champions Caroline Wozniacki and Petra Kvitova.