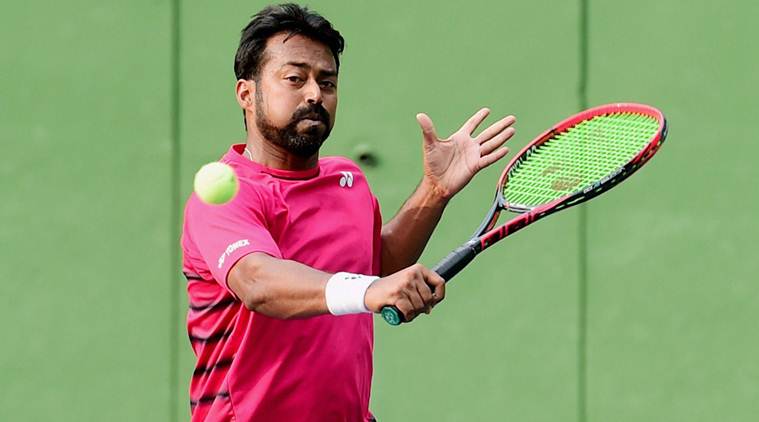 Leander Paes has not been picked for the Davis Cup tie against Canada. (Source: File)
The big question in most cases each time Leander Paes takes the court is – what keeps him going? It is a question he has been asked multiple times and he has answered multiple times. Everything that is there to achieve in the sport, Paes, still going on at 44-years-old, has done it. He's won the Grand Slam titles in both men's doubles and mixed doubles category, he's won an Olympic medal, been a World No 1 and currently has the record of joint most doubles wins in Davis Cup history (tied at 42 with Nicola Pietrangeli).
And he has not been able to add to his tally, losing to Marc Lopez and Feliciano Lopez last year in the World Group playoff against Spain while partnering Saketh Myneni. Earlier this year, he teamed up with Vishnu Vardhan and came up second best against New Zealand's Artem Sitak and Michael Venus. He was then dropped from the Uzbekistan rubber and has once again not found place in the travelling party for World Group playoff tie against Canada in Edmonton.
"I don't have to prove anything to anyone, my career speaks for itself. At this stage I play because I love my tennis. I'm very passionate about being an athlete and the lifestyle it incorporates, Paes said. "I've done my best when I've played for my flag. It gives me great joy and pride to play for my country, city and people. Even when I played individually, like in the Wimbledon I've played for my flag. On a global stage you always want to see your flag fly high. You speak about your country. I've been very blessed, I've had a long career and now I play with a lot of passion," he added.
Paes, now at World No 62, is aiming to seriously improve his ranking before ending the season in November with no chance of qualifying for the ATP World Tour Finals. "I picked up Mahesh (Bhupathi) when he was a young boy and we became world champions. Then Rohan (Bopanna) and I did very well in the Davis Cup (against Serbia) where we came back from two sets down to win a five setter," Paes said. "We (Purav Raja and I) have played two tournaments together and now we have to work very hard. There are many things we have to work on. Give me five weeks time and I will tell you how good is Purav. I'm doing homework now. I've three months left to lift my ranking and for me to play with an Indian boy is very special especially at this stage of my career. By November end I will finish my season and then I will see about next year. I really want to do well to get my ranking back on top," he added.
Paes, earlier teaming up with Martina Hingis on a long term basis before splitting, said he will announce his new partner in 2018 with an eye at his 19th Grand Slam crown. "I will have a new mixed doubles partner and don't be surprised of you see me on podium in 2018," he said.
'Nadal, Federer continue to reinvent themselves'
Paes was also all praise for Rafael Nadal and Roger Federer who have turned back the clock by winning all four majors between them this year. Where Federer won Australian Open and Wimbledon, Nadal triumphed at French Open and most recently at US Open to solidify his World No 1 ranking. All this while Andy Murray and Novak Djokovic battle out their injury concerns.
"I could see it coming. The amount of respect they command in our sport is so well-deserved. They continue to reinvent themselves, learn new shots, get their fitness high," he said. "Both these men are away from the circuit at the end of last year when Andy Murray and Djokovic were doing well. Now you see, with the wear and tear of Murray and Djokovic they could not play at the US Open. Now both these two legends, Federer and Nadal have won two each of the four Grand Slams. Let alone the Masters. The true class of a champion is how you reinvent yourself to create excellence over longevity," Paes added.
Advertisement
Urging youngsters to take up sport not just as hobby but as a career, he said: "10-15 sports was a hobby. But it has become a profession with our careers. You can get scholarships, earn money. You can use sporting expertise and create a life for yourself, a global life.
Also Read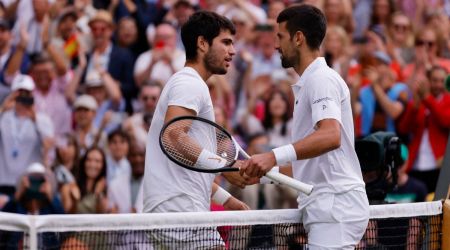 Novak Djokovic and Carlos Alcaraz set to meet again in group stage of Dav...
Watch: Jannik Sinner wins a 46-shot rally against Tommy Paul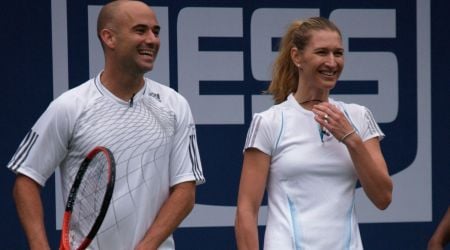 Does Steffi Graf ever age? Husband Andre Agassi has the perfect reply
'Never been friends, never been close to Roger Federer': Novak Djokovic s...
"Many young Indians use sport to study globally and they get 100 per cent scholarships, saving their parents about Rs 40-50 lakh per year. That's a lot of money if you take four years. If you excel in sport, you can get scholarships and earn a living for yourself. Any sport, be it hockey, shooting, tennis, badminton is a great vehicle to stand on their own feet and educate themselves and get great jobs, he said.
(With PTI inputs)
© IE Online Media Services Pvt Ltd