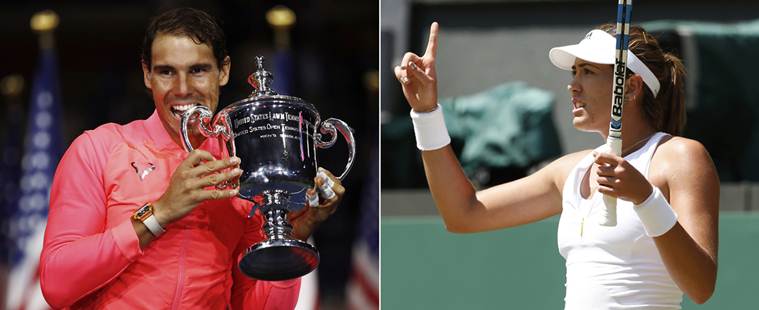 Two Spaniards are at the top of the tennis rankings – Rafael Nadal and Garbine Muguruza. (Source: AP File)
Garbine Muguruza made her debut at No. 1 on Monday, joining U.S. Open champion Rafael Nadal in making Spain the first country since the United States 14 years ago to top the WTA and ATP rankings. Andre Agassi and Serena Williams were both No. 1 in 2003.
Muguruza, the Wimbledon champion in July, rose two spots from No. 3 on Monday after getting to the fourth round at Flushing Meadows for the first time. She is the 24th woman to lead the WTA since it introduced computer rankings in 1975 – and the second Spaniard, after Arantxa Sanchez Vicario.
Muguruza takes over at No. 1 from Karolina Pliskova, who fell to No. 4 with a quarterfinal defeat in New York one year after finishing as the runner-up. Entering the U.S. Open, eight women had a chance to top the rankings by the end of the tournament.
The day she won Wimbledon for her second major championship, Muguruza was asked about what sort of priority she placed on getting to No. 1.
"My motivation is just to be able to be a good tennis player – a good tennis player, and to come to the Grand Slams and be a threat. The ranking is temporary," she said at the time.
"I don't know what it feels to be No. 1. Hopefully one day I can. And then I (will) compare," Muguruza said. "But for now, I'd rather be (No.) 10 and win Grand Slams, than be No. 1."
The woman who won the year's last Grand Slam tournament, Sloane Stephens, jumped to No. 17 from No. 83 by beating Madison Keys 6-3, 6-0 in the U.S. Open final on Saturday, continuing her quick rise after having surgery on her left foot in January and going 11 months between tour appearances. Stephens was outside the top 900 at the start of August.
Advertisement
Simona Halep stayed at No. 2 on the WTA list, while Venus Williams' semifinal run in New York pushed her up four spots to No. 5, her first time in the top five since January 2011.
Angelique Kerber, who made her first appearance at No. 1 after winning the U.S. Open last year, dropped down to No. 14 from No. 8 after becoming only the second defending women's champion in the professional era to lose in the first round.
Nadal remained at No. 1 by winning his second Grand Slam trophy of the season and 16th of his career with a 6-3, 6-3, 6-4 victory over Kevin Anderson in the final at Flushing Meadows on Sunday. The man who won the year's other two major titles, Roger Federer, moved up one place to No. 2.
Also Read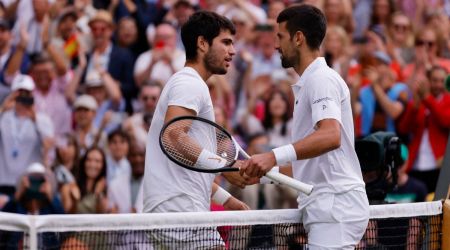 Novak Djokovic and Carlos Alcaraz set to meet again in group stage of Dav...
Watch: Jannik Sinner wins a 46-shot rally against Tommy Paul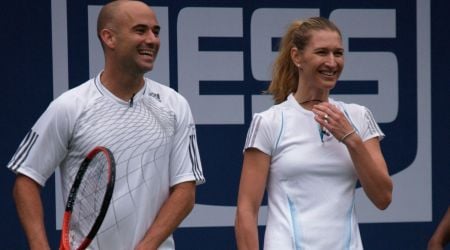 Does Steffi Graf ever age? Husband Andre Agassi has the perfect reply
'Never been friends, never been close to Roger Federer': Novak Djokovic s...Advertisement
Anderson went from 32nd to 17th by reaching his first Grand Slam final. He was the lowest-ranked U.S. Open men's finalist since the ATP computer rankings began 44 years ago.