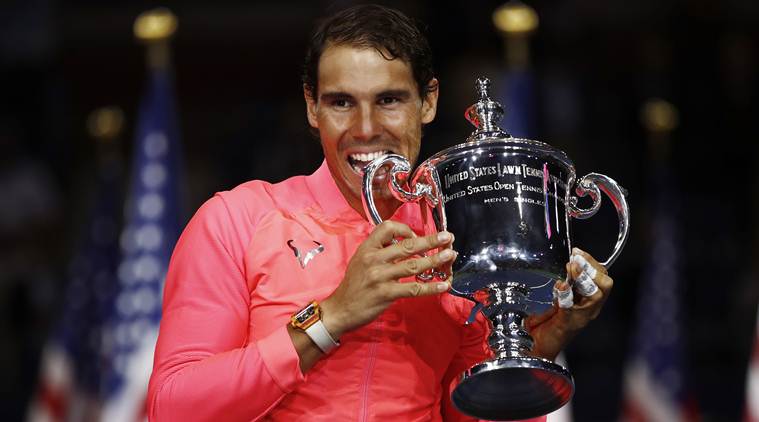 US Open win was Rafael Nadal;s 16th Grand Slam title. (Source: AP)
US Open 2017 champion Rafael Nadal described the year 2017 as "one of the best of his career" on Sunday after winning a third title in New York and 16th Grand Slam. World number one Nadal defeated South Africa's world number 32 Kevin Anderson 6-3, 6-3, 6-4 in a brutally one-sided final during which he did not face a break point.
Nadal also claimed an unprecedented 10th French Open in June after finishing runner-up to Roger Federer at the Australian Open.
"In terms of results, this has been one of the best seasons of my career, of course," Nadal admitted of a year in which he won at least two Slams for the fourth time in his career.
Had he gotten the better of Gilles Muller at Wimbledon, where he lost the final set of his fourth-round clash 15-13, the year might have been even more memorable.
"I have been winning titles, playing three finals of Grand Slams, so that's a lot. That's so difficult. The other slam that I was not in the final, I lost the match 15-13 in the fifth to be in the quarterfinals.
"So was very competitive year for me. And on clay, I won almost every match. Of course is an emotional season because I have been through tough moments in terms of injuries."
Nadal's win on Sunday was the latest chapter in an epic story of domination by the sport's superstars. From Wimbledon in 2003, an incredible 53 of 58 Slams have now been claimed by just five men — Federer (19), Nadal (16), Novak Djokovic (12) and Andy Murray and Stan Wawrinka with three apiece.
Advertisement
Only Andy Roddick, Gaston Gaudio, Marat Safin, Juan Martin del Potro and Marin Cilic have broken the spell.
"We are in an era that is not nice to say, because I'm part of it, but we are in an era that some players make incredible things in this sport," said Nadal.
"It's difficult to win a lot of titles. We should be very happy. Probably even Roger and me and Novak, much more than we ever dreamed."
Advertisement
To hammer home their enduring appeal and dominance, Federer and Nadal shared the four Slams in 2017 — Federer winning the Australian Open before capturing a record eighth Wimbledon.
Despite his success, catching the 19 majors of Federer is not particularly high on Nadal's list of priorities.
"I really never thought much about that. I just do my way. He does his way. Let's see when we finish," he said.
"I have 16. So three is big difference. I really don't think much about these kind of things. Well done for Roger that he is having an amazing season, too, and well done for me because I'm having a great season, too.
"Tennis is not all about the Grand Slams, so there are tournaments to come and I'm excited about this last part of the season."
Advertisement
It's all a far cry from the end of last year when Nadal was ranked at nine in the world and Federer was 16.
It was also a 2016 season that saw the injury-hobbled Nadal lose in the first round at the Australian Open, withdraw after two rounds of the French with a wrist problem, skip Wimbledon and exit the US Open in the last 16.
Advertisement
However, in 2017, Federer and Nadal have won five titles apiece and on Monday they will be back at number one and two in the world for the first time since 2011.
Also Read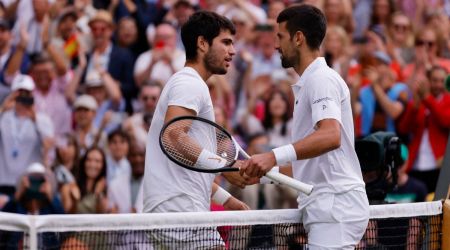 Novak Djokovic and Carlos Alcaraz set to meet again in group stage of Dav...
Watch: Jannik Sinner wins a 46-shot rally against Tommy Paul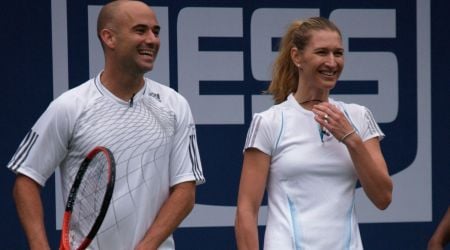 Does Steffi Graf ever age? Husband Andre Agassi has the perfect reply
'Never been friends, never been close to Roger Federer': Novak Djokovic s...
"I was surprised in January. Now I am not that much surprised," said Nadal. "There are things that probably Roger and me share — that is passion for what we are doing, passion for tennis, passion for the competition and the spirit of improvement all the time."